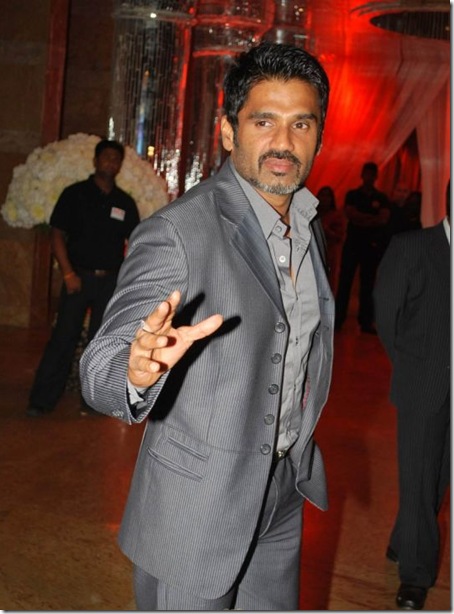 Sunil Shetty is taking a U-turn and returning to where he started in Bollywood – action.
The macho actor, who is taking a sabbatical from producing movies after facing losses, is pumping his muscles to crush some bones on the big screen for a resurrection.
"There are plans to come back to action. I am working hard on my body and fitness for that. I will do something that is extra extraordinary. It will be a patriotic film," Anna, as he is fondly called, told IANS in an interview.
"The script is ready and I am playing a central character in the film. The action in it will be unbelievable. Hopefully, it will work," added the 49-year-old, who drifted to comedy with movies like "Hera Pheri" and "Hulchul" for a new innings.
Asked if the film will be a contemporary or period outing, the fit actor nodded for the former.
Prodded to reveal more, he said: "I wouldn't like to talk about it until it happens. But it's just that they (the characters) are in the raw, in the jungle and up in the mountains. So there will be a lot of commando oufit action up there."
Suniel, who will reach the milestone age next year, is also pumping metal hard for the film and to mould his muscles into an age defying body cover.
"I am training hard for it. I am much leaner now and far more ripped than I was, but I want to go down even further. I want to be very sporty than I have ever been. I want to be really lean and ripped," said the actor, who looked everything but his age in a more toned than ever avatar.
"I am also hitting 50 next year and when people believe they are getting older at that age, I want to believe I am younger," he added looking dapper in full sleeve black t-shirt and blue jeans.
So will the movie be a home production?
"No home productions for me right now because in the two years I did productions, I lost a lot of time as I was not acting. There's too much stress with productions," said the actor, who couldn't impress lady luck when he turned producer in 2003 with his banner "Popcorn Motion Pictures" and produced duds like "Khel" and "Rakht".
Suniel injected action in the comman man's home as a desi Schwarzenegger in his 1992 debut "Balwan". While he jumped bridges in the movie to save women from goons and slithered in paint in a dark godown to break the antagonist's jaw, he became the contemporary He-Man in Bollywood.
A Black Belt in kick boxing, he kept the decade packed with more of muscle power in outings like "Waqt Hamara Hai", "Mohra", "Suraksha", "Shastra", "Rakshak", "Krishna" and "Aakrosh" and "Dus", to name a few.
"I missed action and I am happy that films like 'Wanted', 'Ghajini' and 'Dabangg' brought back action in such a big way. It is larger than life," said the actor.
Apart from fame, the action image, however, proved fatal for Suniel when it came to comedy.
"It (comedy) was something that was natural in me but because of my structure and because of the action that I did, people didn't see that side of me. But I am not held on to my forte by doing only action as the thing that sells. I wanted a change of image and I am working towards it," said the father of two, who received critical plaudits for his role in the Maoist drama "Red Alert: The War Within".
Apart from action and comedy he also has to his credit patriotic outings like "Border", "Refugee" and "LOC: Kargil".
For his almost two-decade journey in Bollywood, he said: "There have been highs and lows but the day I get out of the industry, I just want people to say, 'he was a nice guy… he was a good actor and a good human being'. That's why I also make a conscious effort to make sure that I don't hurt anybody," he said, sporting a childlike smile.
A "family man", who likes to keep it low-profile, the actor also owns restaurants specialising in Udupi cuisine and clothing boutiques. "I am also trying to revise my water sports business in Mumbai."
As for films, his other future projects include a venture on capital punishment and "Thank You".