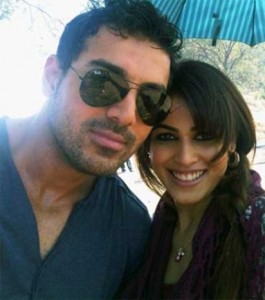 John Abraham and Genelia D'souza have been paired up for Vipul Shah's Force. While shooting for a marriage scene, they almost even completed the auspicious saat pheras but, the shooting was stopped.
As per sources, the arrangement made for the ceremony was so genuine that if by any chance they completed the pheras, they would have become husband and wife while shooting.
The priest who was hired thought the wedding to be real as he didn't understand that it's actually a shooting. He spelt out the true marriage mantras and when Nishikant Kamath shouted 'cut', he still continued. This way, they took about six pheras and this is when the pandit was asked to stop it at once.
It was both a funny moment and also a sigh of relief for Genelia and John. Wonder what would have happened if the marriage got completed accidentally!